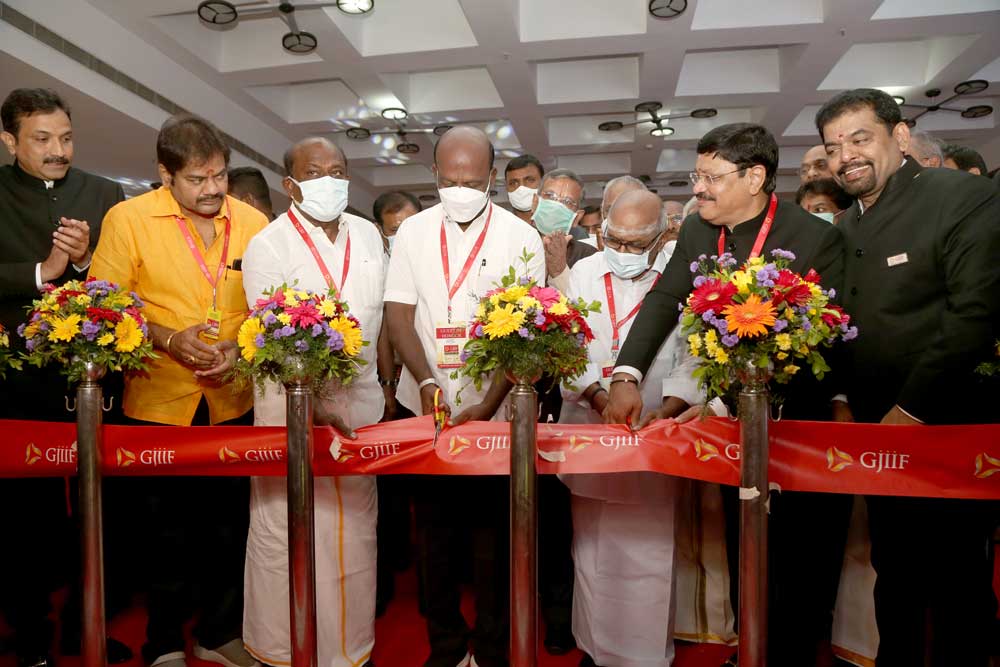 GJIIF 2021 Festive Edition Boosts Industry Preparation for Seasonal Sales
Significant Rise in Pan-India Interest in South Indian jewellery
Exhibitors report sharp rise in festive business
Major Networking at Seminars, Shining Stars Night
The Festive Edition of the three-day Gem & Jewellery India International Fair (GJIIF) 2021 held at the Chennai Trade Centre from October 22-24 provided a timely boost to industry preparations for the forthcoming festive and wedding season. The show was organised by the Jewellery & Diamond Traders Association, Madras (MJDTA) and Tamil Nadu Jewellers Federation (TNJF).
GJIIF Festive Edition was inaugurated by Hon'ble Minister of Health, Shri. Ma. Subramanian, along with stalwarts of Indian Jewellery Industry. The event saw participation of over 400 exhibitors and has been visited by more than 10,000 trade visitors.
Brisk sales were reported by many exhibitors as retailers from the South and some key locations across the country placed orders in anticipation of strong sales over the next few months. A few even said that the entire stocks were sold out in the first couple of days.
Demand for gold jewellery continued to be strong and silver jewellery has shown a steep rise in its demand and continued to progress on its growth trajectory. A number of diamond jewellery manufacturers also reported significant business especially from the corporates and chain stores.
The show also reflected the rising pan-India popularity in South Indian designs and traditional ornaments, which once mainly sold in the southern region. This year, in addition to the usual large turnout of leading retailers from across the Southern states, there was a marked rise in the number of visitors from across India.
Shri. Jayantilal Challani, Convenor, GJIIF, said, "GJIIF has more than doubled in size since 2018, and has now become a must-visit event for the trade, both for business and networking. This year we created special interest zones within the halls – the Gold and Silver Pavilions and also organised many seminars and a special networking evening programme, the SHINING STARS NIGHT. Dignitaries from the industry were recognised through shining stars award for their outstanding contribution to gem and jewellery industry.
Highlight of the evening was, Shri. G Rajendran, Chairman of GRT Jewels and GRT Group was felicitated with Lifetime Achievement Award in the form of signatorial album, signed by more than 500 jewellers from across India and a special recognition though "Jewel of India" award to Shri. N Ananthapadmanabhan, Chairman of NAC Jewellers for his extraordinary representation in various capacities for the betterment of domestic jewellery industry. These efforts were highly appreciated."
Shri. A S Sriram, President of the Tamil Nadu Jewellers Federation (TNJF) said, "This year we decided to expand our promotions to a much larger section of buyers. In addition to the South, we held road shows in many states in the North, West and East. The results are there for all to see. GJIIF has definitely grown in stature this year."
VK Manoj of United Exhibitions, the show managers, said, "We got kudos from many for holding the show just in time for the Diwali and Dhanteras festivals and ensuring the presence of serious buyers, despite many challenges. Our team takes pride in having delivered a platform that helped generate good business and we aim to take the show to even greater heights with each subsequent edition."
The next edition of GJIIF is scheduled from MARCH 25 to 27, 2022.