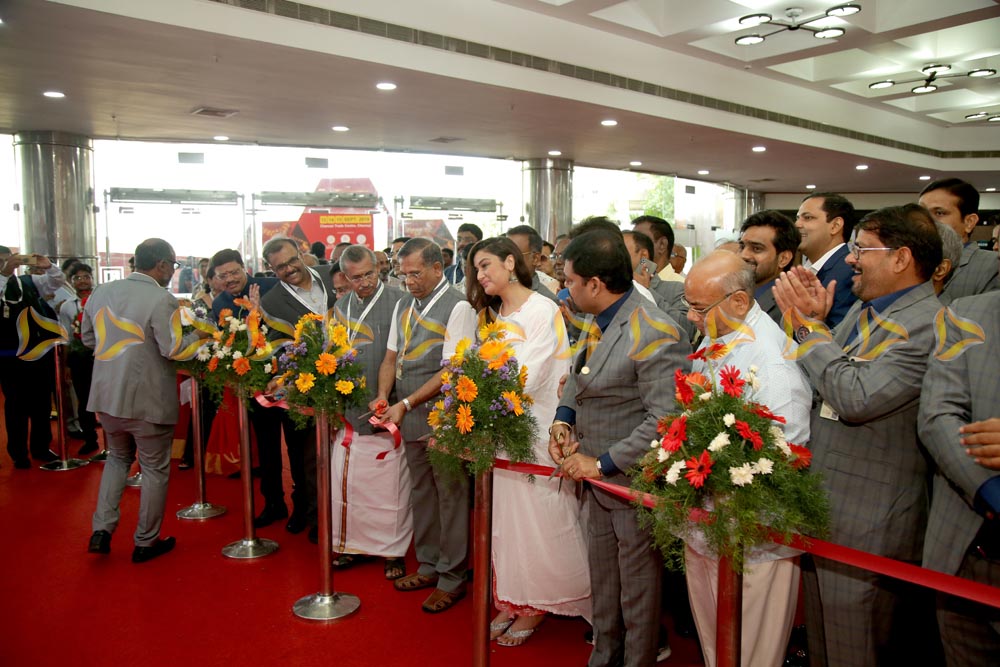 REPORT OF GJIIF 2019
GJIIF 2019 – FESTIVE EDITION
India's Largest B2B Jewellery Exhibition for South Indian Jewellery, meets the demand for upcoming wedding and festival season.
The Gem & Jewellery India International Fair (GJIIF) 2019 was jointly organised by Tamilnadu Jewellers Federation (TNJF), All India Gem and Jewellery Domestic Council (GJC), and Madras Jewellers & Diamond Merchants Association (MJDMA). GJIIF 2019 – Festive Edition inaugurated with a high note in the presence of who's who of the jewellery industry on September 13th 2019 at the Chennai Trade Centre, Chennai. This 3-day focussed B2B jewellery tradeshow was held during 13th to 15th September 2019.
It was a sprightly moment during the inauguration filled with dignitaries from MJDMA, TNJF and GJC were in joyful exchange of greetings with a slight hint of glamour from film industry with few celebrities joining the event inauguration. The ribbon cutting followed with the lighting of the lamp signifying the auspiciousness was done in the presence of Shri N. AnanthaPadmanabhan, Chairman, GJC, Shri A.S.Sriram, President, TNJF and Shri Jayanthilal Challani, President – MJDMA, and many other prominent leaders from the industry.
Spread over 2,00,000+ Sq. ft, across the Chennai Trade Center, GJIIF 2019 with over 250 exhibitors from India, saw an overwhelming response from the buyers from all southern states; Karnataka, Kerala, Andhra Pradesh, Telangana and the host state, Tamilnadu, apart from the trade visitors who visited from Maharashtra, Rajasthan, Punjab, Odisha, West Bengal, New Delhi, and more. The show promises to be a one-stop source for a large variety of gold, diamond and silver jewellery specifically designed and manufactured to cater the taste of South India and also a large number of machinery and allied services exhibitors have made their mark by showcasing the best of their products and services to the most potential jewellers of India. GJIIF 2019 has evolved itself as the single most available platform for wholesalers, retailers, exporters, manufacturers, diamond, gemstone, pearl suppliers & traders to meet, greet, connect, network and grow their business.
This edition of South India's Mega B2B gems & jewellery exhibition, 'Gem & Jewellery India International Fair (GJIIF) – Festive Edition, recorded approximately 3,000 footfalls on its very first day. It went to reach over 8,000 trade visitors for all three days. The show's accurate timing ahead of wedding and festive season has worked in favour. GJIIF has proven that when industry comes together, anything is possible and during this slow phase of the market also the vision and guidance provided by the industry stalwarts has made a difference to the participants for generating excellent business in the exhibition.
Gold, diamonds and precious stones jewellery overwhelmed, as over 300 wholesalers and manufacturers across India showcased their latest designs and products at the three-day affair.
To add feather to its crown seminars and discussions where held concurrent to GJIIF 2019, which was addressed by prominent industry key leaders. Many knowledgeable seminars and interactive sessions has led a deep connect between the industry patrons with latest trade practices and compliances to be brought under one roof.
A seminar followed by a panel discussion was held on the 13th September in association with ICICI Bank with its title "The Bullion Summit" with top officials from ICICI Bank and industry representatives were there to address key points that are faced by the industry with respect to banking services. The event was followed by networking and gala dinner.
The second day was fully occupied by seminars from GIA and Rapaport followed by the ZCM meeting of GJC with its members from all over India attending the meeting. The evening was filled with an excellent award ceremony to felicitate the winners of world design awards. It was a thrilling experience to see the kind of the effort and skill put into place to give detailing to the design which has brought the international fame to Indian designers. Mr. Jitendra Vummidi was also seen among the guests interacting over various things.
Mr. Jayantilal Challani, President, MJDMA said, "GJIIF 2019 has conducted record breaking roadshows ever done for any gems and jewellery B2B show in South India. The Modus Operandi was to form separate teams to address various aspects of GJIIF 2019 and the efforts have been fruitful and yielded positive results".